Condo Strata & Property Managers
Water Damage Repair And Building Envelope Restoration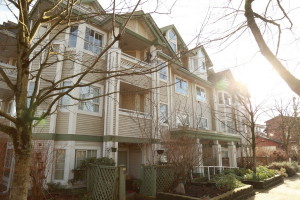 Flagship Construction's water damage and restoration specialists are all Red Seal certified, licensed, and insured contractors who will work closely with your property management team and strata board to ensure your client's and unit holder's respective investments are protected. Our goal is to help you not only improve the overall structural health of your building, but to also assist you in providing unit holders with the best possible restoration experience with minimal interruptions and maximum improvement to their living conditions.
After more than 28 years in the building construction, envelope restoration, water damage repair, leaky condo restoration, and home renovation industry, Flagship Construction is experienced in managing and coordinating all aspects of the restoration process including:
Logistics and project management
Installation of scaffolding systems, fencing, and other crucial construction items specific to the project to ensure quality workmanship and site security
Select demolition and disposal
Interior and exterior supplies and installation
Ongoing and open communication with contractors, strata board, property managers, and environmental consultants
Flagship Construction Operates In Full Compliance With The BC Homeowner Protection Act
Flagship Construction is a licensed and registered builder and building envelope renovator with the Home Protection Office (HPO). All our staff are professional, licensed residential builders and envelope restoration specialists, which means we always operate in full compliance with the BC Homeowner Protection Act to ensure you get the best possible results. Book a consult with a Flagship water damage repair and leaky condo remediation expert today!
Preserving The Life Span Of Your Condo Building
The leaky condo crisis is a phenomenon that many of us thought were behind us -- that is, until the Condominium Homeowners Association of B.C revealed new data demonstrating that a second wave of leaky condo's are beginning to emerge again. Condo stratas and property management companies need to be fully aware of the potential construction failures that could affect the structural integrity of their buildings, the health of its occupants, and the overall value of the property.
Many of the buildings affected by the leaky condo crisis are low rise, 3-4 story, wood frame buildings. Water ingress through compromised building envelopes meant leaking roofs, moldy walls, and rotting wood framing, which led to hazardous immediate and long term health problems and sub-standard living conditions.
The Water Damage Repair and Assessment Process
Strata councils and property managers who take a proactive stance in the ongoing maintenance of their buildings means they are:
Prolonging the life span of their condo complex
Maintaining the value of the properties their unit holders and clients have invested in
Ensuring the health and safety of the building's occupants
Flagship Construction will work closely with you to identify the cause of the building envelope breach, report our findings on the damage, provide recommendations for the scope of work, outline potential costs, and take the necessary steps to repairing and restoring the property back to its former health.
Learn how our experienced team of mold remediation, water damage contractors, and building envelope repair specialists can provide you with quality restoration solutions that are safe, on-time, on-budget, and respect the privacy of your residents. Speak with a restoration consultant today at 604-282-4512!